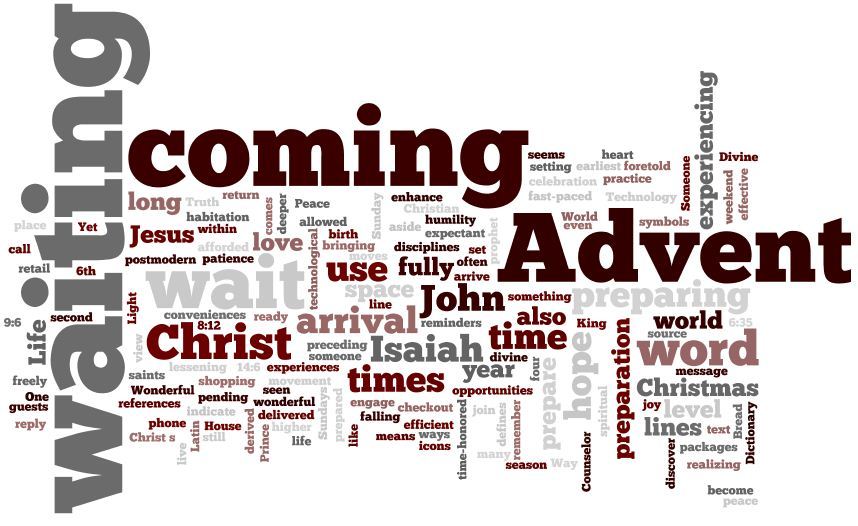 I have a confession to make. I hate to wait. Really. Red lights on the road are a curse of the devil. A line at checkout when I'm buying groceries? I have to ask myself how much I really need the things in my cart. I'm all for patience, as long as I can have it NOW.
So we enter into Advent, the season of waiting and I hate waiting. We wait for God to appear in a manger in Bethlehem at just the right time. But I want to rush through these days and get to Christmas already. Did I say that I hate to wait?
There are two people mentioned in Luke's Gospel I don't envy at all. Two people for whom their entire life was a life of Advent, a life of waiting. They were both present when Joseph and Mary came to present the child Jesus to God in the temple.
There was at that time in Jerusalem a man called Simeon. This man was upright and devout, one who watched and waited for the restoration of Israel, and the Holy Spirit was upon him. It had been disclosed to him by the Holy Spirit that he would not see death until he had seen the Lord's Messiah.
There was also a prophetess, Anna the daughter of Phanuel, of the tribe of Asher. She was a very old woman, who had lived years with her husband after she was first married, and alone as a widow to the age of eighty-four. She never left the temple, but worshipped day and night, fasting and praying (Luke 2:25-26, 36-38, NEB).
First we meet Simeon, a godly man who had the Spirit of God resting on him as he watched and waited for God to reveal the Messiah. Do you think he was surprised to learn that the One he had waited for all his life–a life of Advent–was a baby? A helpless infant born in an insignificant village to parents of inconsequential heritage? Did Simeon have expectations of a warrior messiah, or was he open to God being God and coming in this strange and vulnerable way? Was he upset that he waited all this time just so God could appear as an infant?
Then there is Anna, one who spent all of her days and nights in the temple in constant prayer and fasting. She had long been a widow. We don't know if she had any children or grandchildren; if she did, she did not spend her time with them. Rather, she waited on God as a servant waits on her mistress. Some would see this as a wasted life.
But not God.
Simeon and Anna both lived Advent lives, lives of waiting on God, lives looking for God's coming. Advent literally means "to come." Simeon and Anna lived in the tension of the "now but not yet." They anticipated the messiah to come and spent their lives in expectation. How many before them also lived such lives, only to die while still waiting on the One who was Advent, to come?
Would I have been like Simeon and Anna, faithfully waiting on God with my prayers and fasting while waiting on God to come? Or would I have grown tired of the waiting and gone on to something else? While I would like to think I would have been like these two mentioned in Scripture, I know myself all too well. And as I may have mentioned, I hate to wait.
Our Advent today is more symbolic than actual waiting. After all, we know that Christmas will come, and with it the announcement of the birth of the Messiah. We have heard the announcement many times in our lives, and it no longer takes us by surprise. We know that the angels will make a great announcement to shepherds watching their flocks by night. We know that Mary will give birth to a babe in a cave, wrap Him in swaddling clothes and lay Him in a manger. We are no longer surprised by these events. They have become to us commonplace with the season.
True Advent is not only passing the time until an event occurs, but is the anticipation and expectation of that event. It is embracing the "now but not yet" fully, with all of its darkness and suspense. It is trusting in the mysteries of God and not demanding to have all revealed in advance. Surprise, and the joy that accompanies it, can only come when we don't know what will be in that package under the tree.
I know this will seem strange from someone who hates waiting as much as I do, but I guess I do envy Simeon and Anna. They embraced their Advent with contentment, knowing that God would bring salvation to His people in His time. That it occurred while they were still living did not, I think, end their Advent. Somehow, I think they continued to look to God, to anticipate Him coming to them every day with salvation. I would like that to be my vocation in life as well, even though it means learning to become content with waiting.
May we become people of Advent, of waiting, embracing the "now but not yet." Then just maybe we will be surprised next week with the announcement that Christ the Savior is born.